Renew Your Florida Notary
Commission in Just a Few Easy Steps
---
Avoid the hassle of a lapsed notary commission. Renewing your Florida notary commission with us is simple, fast, and affordable. Simply follow the steps outlined below to continue your notary work uninterrupted.
To renew your Florida notary commission you must:
Complete and submit a Florida notary application no more than sixty days before your current commission expires.

Purchase a $7,500, Florida notary bond.

Pay a $39.00 state filing fee.

Purchase a new Florida notary stamp.
Complete Florida Notary Package
---
Everything you need to renew your Florida notary commission
Only

$91.95*


Includes a One-year Membership to AAN
Limited time offer - save up to 40% on notary supplies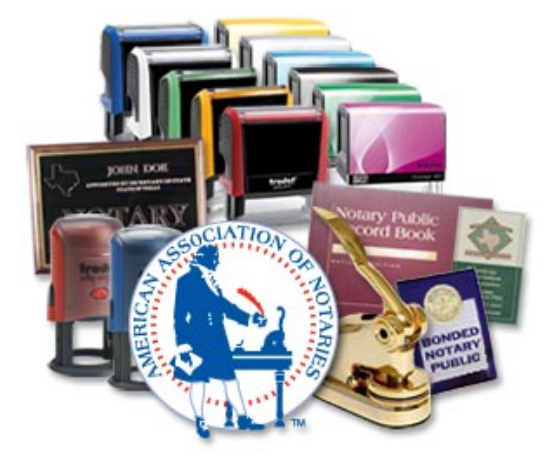 | | |
| --- | --- |
| Florida 4-year, $7,500 notary bond. | $40.00 |
| State filing fee. | $39.00 |
| Trodat self-inking rectangular notary stamp Item # FL201. | $19.95 |
| Notary record book (Item # FL702). | $ 9.95 |
| Free one year membership to AAN. | $19.00 |
| Total Value | $127.90 |
| Your Cost | $91.95 |
* This notary renewal package may be purchased separately at the same net savings without the state mandatory 4-year, $7,500 notary bond for $12.95 plus $6.95 for shipping. Enter item # P101 on the order form. The Florida 4-year, $7,500 notary bond may also be purchased separately for $40.00 plus $39.00 state filing fee. Discounts/Savings apply only to supplies and not to notary bonds or errors and omissions insurance policies. The notary bond, state filing fee, and notary stamp are required by Florida notary law.
Why Complete Your Application Online?
---
Speed
-
Your application will be approved faster, which means you'll get your commission sooner!
Accuracy
-
The Secretary of State will use your information exactly as you type it. You will not have to worry about someone else making a mistake with your application.
Tracking
-
You will be able to track the status of your application online, and you will receive notifications regarding the status of your application.
Payment option
-
You will have the choice of paying for your application online using a credit card, or you can pay by check.
Security
-
Registration and the online application are secured for your protection. All your personal information is encrypted for your complete security and privacy. Please view our privacy policy.
Multiple applicants
-
Ideal for businesses! Unlike other websites, we allow you to apply for notary commissions for more than one person.
Flexibility
-
You can save your application at any point and come back later to finish it.
Don't want to renew online?
Applying online is safe, easy, and fast, but if you'd prefer to apply offline, just follow these three simple steps to start the Florida notary application process.
You'll get everything that's required to become a commissioned Florida Notary Public in ten to fourteen days.
Click here to print the Florida notary application forms.

Select the Florida notary bond and state filing fee listed on the order form for $79.00 Then choose your stamp case color. All of our notary supplies are manufactured in-house, comply with Florida notary laws, and come with a lifetime replacement guarantee.

Mail us your completed Florida notary application, order form, and payment. We will review your application for accuracy, issue the bond, and file it with the Florida Department of State. We will ship your notary commission certificate and notary supplies to you once you are approved as a notary public.
Florida notary bonds and errors and omissions insurance policies provided by this insurance agency, the American Association of Notaries, Inc., are underwritten by Western Surety Company (established 1900). Kal Tabbara is a licensed insurance agent in Florida.